DNA Paternity Testing in Canada
homeDNAdirect Canada is your local specialized provider of DNA testing services and operates through its Canadian office based in Toronto. Our 21 genetic marker home DNA paternity test for one alleged father and child is available for only $199. There are NO EXTRA FEES. This fee includes all you need to do the test and there are no other hidden costs. The home testing kit is extremely easy to use and pain free as your samples will be collected through a simple mouth swab! Our paternity testing results will confirm whether you are or are not the biological father of a child with an accuracy of 99.99% or higher. homeDNAdirect Canada offers the shortest turnaround times and your results will be ready and emailed to you in only 3- 5 working days. Kindly note that visits are by appointment only.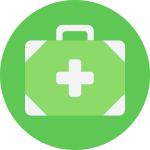 Order test kit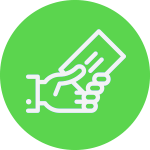 Collect & send samples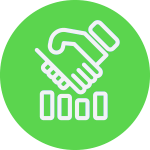 Receive your results

Fast
Tighter result turnaround times means a shorter wait for your DNA test results. The less time you wait, the less you stress and the faster you can move on.

Accurate
Accurate results mean finding closure with total peace of mind. Testing laboratories are ISO17025 accredited which is the gold standard in DNA testing accreditation.

Privacy
homeDNAdirect unfalteringly ensures the strictest client confidentiality and privacy. We know what confidentiality is all about and what it means to you.
Global operations at your service
Thanks to our regional offices, we can easily and efficiently service and provide kits anywhere in Canada including the cities of Toronto, Calgary and Montreal. Being an international company with offices in many countries, we can also help organize your DNA test with test participants living in different countries. The quality of our testing is guaranteed by the ISO17025 accreditation of a partner DNA testing laboratory that has conducted in excess of 250,000 DNA. All testing is performed using state of the art technology and equipment whilst adhering to the strictest quality control guidelines. To see our full portfolio of DNA tests and prices please visit our  DNA tests available page. For more information about our DNA paternity test we recommend you contact us directly to discuss you case in more detail.
Accurate and Fast DNA tests
In addition to paternity testing, we offer a full range of DNA relationship tests to establish biological relationships between individuals including siblings, aunts/uncles and grandparents etc. Our paternity testing and relationship testing services can also be carried out for legal purposes, following the chain of custody required by courts and other legal entities. A legal DNA test is the ultimate proof of relationship between two or more people. Results of such tests can also be used to support immigration documents. homeDNAdirect Canada's immigration  DNA testing in fact complies with the requirement of the Standards Council of Canada (SCC). In cases where clients are unable to collect samples from a test participant due to that person being unavailable for the test, homeDNAdirect offers you advanced DNA forensic  testing capabilities as an alternative. Thanks to our forensic services, we can process a wide variety of discreet samples making it possible for you to carry out hair DNA testing, analysis on cigarette butts and semen as well as many other DNA samples.